Brune Engineered Products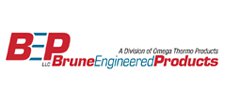 Brune Engineered Products, a division of Omega Thermo Products
Brune Engineered Products, a division of Omega Thermo Products, is a leading manufacturer of high quality inflated plate heat exchangers, utilizing the proven technology of CNC laser welding. This process allows design and quality control that has not been obtainable by traditionally welded heat transfer surfaces. Omega is the largest producer of inflated plate type heat exchangers in the world, with millions of square feet in operation today.
Omega is best known as the inventor of laser welding for use in manufacturing inflated heat transfer products. Now, more than 20 years later, Omega is recognized as the world leader in this industry. Having its US Manufacturing & Head Office in Stratford, Wisconsin, and with manufacturing facilities strategically placed around the globe, Omega's products can be seen throughout the world in virtually every industry.
The inflated plate heat exchangers are produced on a state-of-the-art CNC operated laser welding machine. This allows production to exact desired specifications each and every time. CNC capability also allows the optimization of tank shell and plate layouts, to maximize heat transfer area and minimize heat loss.
Omega produces a wide variety of heated and refrigerated plates, including immersion plates, plate bank assemblies, clamp-on plates and jacketed shells. All heat exchange transfer surfaces and assemblies can be designed, fabricated, and stamped to meet the regulations of ASME Code Section VIII Div. 1.
Showing all 8 results